Pumps on chassis
We offer a wide choice of pump units for many areas of use, mainly industrial and fire.
Pump sets with Sprinkler network system, multi-outlet pump sets, oil drilling pumps, .. our catalog is rich and the list exhaustive.
Our pump units meet strict standards: NFPA20, UL / FM, ATEX, EN 733, ISO 2858, to name just a few.
Do not hesitate to contact us directly to discuss your prerequisites.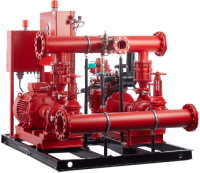 A selection of pumps adapted to your specific business needs